Affordable Scaffolding for Hire in Auckland
Scaffolding Hire Auckland
Our affordable Scaffolding Hire Auckland can provide all types of scaffold. It's at the heart of what we do and where our business started.
We hire and sell our proprietary steel ringlock system scaffold as well as tube and clip scaffold and aluminium scaffold. We also offer aluminium trusses and stair risers.
Our diverse product range ensures that we can provide an ideal solution depending on your application from painting, residential, commercial, industrial maintenance and events.
With a team of over 95 scaffolders we have a capable labour force to complete your small or large projects on time without delay.
We pride ourselves in being able to work in any environment, including confined spaces.
No job is too small and your enquiry will be responded to within 24 hrs.
"Over the past two years I have worked with Affordable Scaffolding and they have not only performed but pulled us out of some difficult situations with the commitment to taking on their work to ease our burden.
Affordable Scaffolding can do it all from the small to large jobs and standard to complex design scaffolding. Their friendly and easy going approachable style is refreshing in an industry that can have its moments.
I highly recommend Affordable Scaffolding!"
Rodney McPherson, Project Manager, NZ Strong
Tube & Clip is an original type of scaffolding system – traditional, tried and true. 
Using Tube & Clip, the scaffold structure is entirely built from scratch on site. Galvanised steel tubes are run vertically, horizontally and diagonally, and fixed together by clamps. Wooden planks are laid horizontally to act as walking surfaces.
Therefore, although more labour-intensive, Tube & Clip allows for a total custom built design according to the architecture of your building/structure. Its versatility allows for vertical tubes to be spaced uniquely and walking decks to be placed at required levels for the optimal work space (safely within the limits of engineering constraints).
In other words, the scaffold design fits exclusively to your building structure as your construction team requires.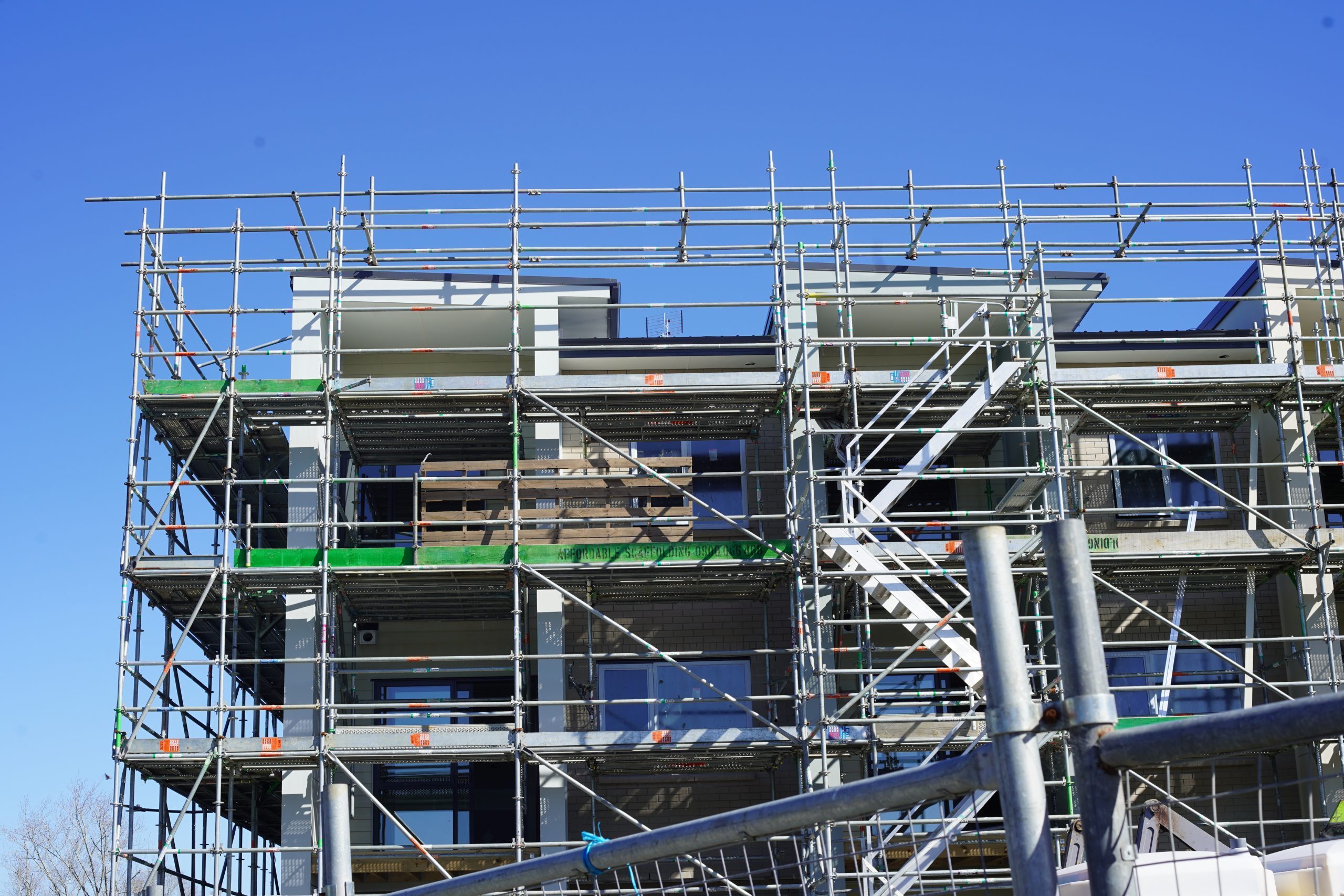 This steel modular proprietory scaffold system has all round versatility, an efficient building process, and is easily recognisable by its typical circular 'rosette'. It can be used all year round due to the metal componentary.
Our Steel Ringlock System has interchangeable components that provide versatility and make it easily adaptable if the structure needs to be extended or reconfigured according to the projects progress.
It offers an unbeatably fast assembly, can be erected with minimum labour, uses an easy clip on interlocking system – with no bolts, no spanners and no tightening required.
It's speed and low manpower make the Steel Ringlock System exceptionally cost effective especially for large projects.